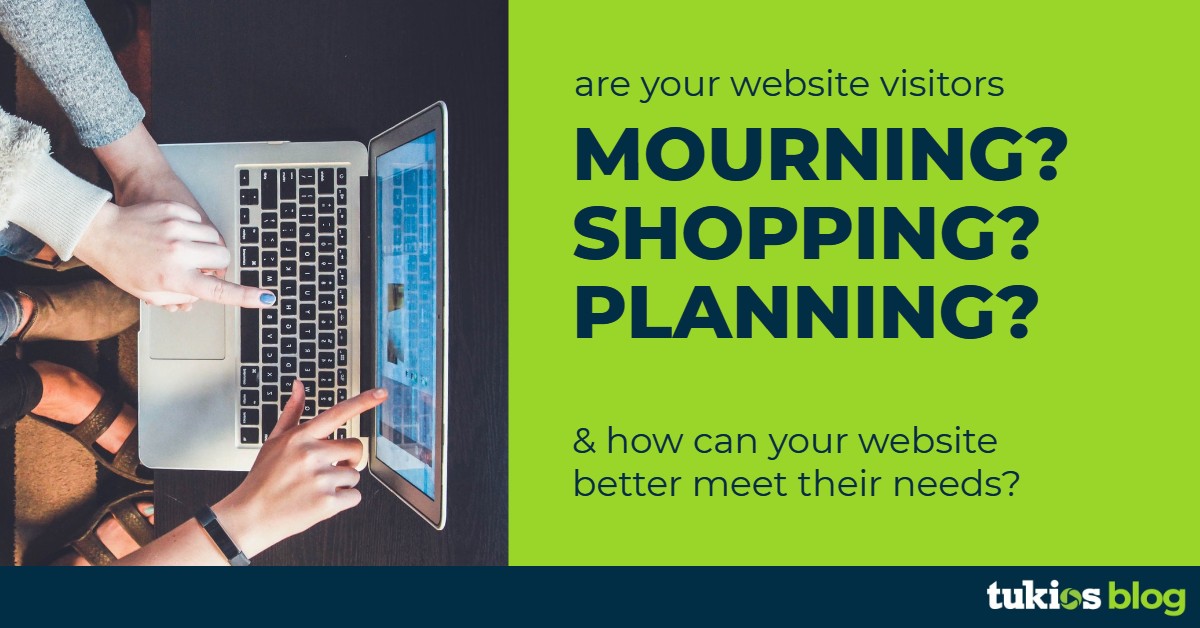 Whether they come because they are mourning, shopping, or planning, strategically structuring your website will create better experiences for your current and potential customers.
When someone visits your website, they bring questions with them. What they find on your website affects whether or not they decide to choose your services. If their questions are not answered, they may decide to look elsewhere for help.
Recent data provides insight into what people are looking for when they come to your site. By understanding what people are looking for, you can increase your customer base and create a less stressful experience for the families you serve.
The 2021 National Funeral Directors Association Consumer Awareness and Preferences Survey found the top reasons people visit a funeral home's website:
38% look for an obituary

17% write a condolence

17% look for pricing information

15% look for planning information

11% look at cremation or burial options

8% look for information about facilities/staff

5% look for merchandise options
These groups are coming to your site with different needs. Each of the above statistics can be grouped into three main areas: mourning, planning, and shopping.
55% are mourning (obituaries and condolences)

41% are shopping (price info, cremation/burial options, funeral services)

15% are planning (planning info for themselves and/or others)
At Tukios, when we looked at data from millions of website visitors, we found:
80% are mourning

17% are shopping

3% are planning
Mourning
According to the data, the largest reason people come to your website is to mourn the recent loss of a loved one and to view obituaries or write condolences. With so many people looking for these items, it is important that they are easy to find and clearly marked.
This group of people is coming to your website with heavy hearts and a lot on their minds. You might consider how your website can also provide support and help during this difficult time.
Key takeaways you could implement to your site:
How can I make the obituaries and condolences easy to find?

When those who are mourning visit my website, what experience are they having?

What helpful resources can I have on my site for those who are mourning?

Am I making it easier for people to express sympathy through my website by having flowers and gifts available?
Shopping
Website visitors who are planning and shopping have some overlap with what they are looking for. The shopping group is likely also doing some planning, but they are closer to paying for services, burial/cremation options, and are shopping for a facility and staff whom they can trust. They either had someone close to them pass or they are expecting it in the near future.
These people have questions about the pricing, offerings, and the next steps. If you're hesitant to list exact prices online, you may consider having price ranges listed somewhere so the family can have an idea of what it looks like to use your services.
Key takeaways you could implement to your site:
Do we have prices listed on our site? Is it better for us to provide a price range or more exact prices?

Is our GPL or other price information easy to find and understand?

Could we share a price calculator or show various packages we offer?
"When I'm on a website and can't find any pricing, I assume they must be really expensive"
Planning
This group of people is visiting your website because they are making plans and seeking information about your services and pre-planning. They may have experienced something recently that has caused them to think about planning or they may have come across pre-planning information. As they are looking, they may be comparing your services to other funeral homes in the area to decide what's best for them.
You can stand out from your competitors by having this information easy to find and understand. This provides the family with more information and leads to less uncertainty, and more confidence in your services.
Key takeaways you could implement to your site:
Do we have funeral planning information on our website? If so, is it easy to find?

What details is my website missing that potential clients might be looking for?

What timeline should a family keep in mind when planning their funeral?

What's the best way for someone to schedule a meeting with us?

Should I use a chatbot software to answer questions easier?
"How long is it going to take? What is the process from death to burial?"
Whether they come because they are mourning, planning, or shopping, taking extra time to strategically structure your website will create better experiences for the individuals and families you serve.

Tukios puts quality time into your website and we are always here to make sure it's just what you need and want. Schedule a demo today!