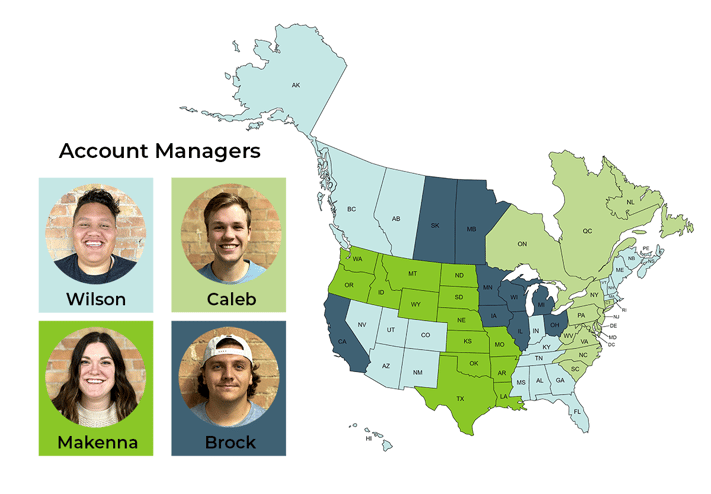 The image above shows the four account managers and their assigned areas.
We're excited to introduce our NEW Account Managers! After recently re-structuring our sales team, these four employees stood out as people who could take our account management to the next level.
Each brings unique company experience and is excited to connect with each of you! Let's meet them:

Wilson Atagi
Wilson has worked at Tukios for over 2 years as a Sales Development Representative and an Account Executive. Wilson graduated with a bachelor's degree in Professional Sales from Weber State University.
Wilson's favorite quote is As a Man Thinketh by James Allen. His favorite food is Chicken Alfredo or Ribeye Steak and in his free time, Wilson likes to spend time with families and friends competing.
Wilson's previous supervisor said:
"As an account executive Wilson was pivotal in building and maintaining relationships, learning the funeral business and knowing how to serve our customers with their interests in mind. You can expect firm commitment and attentiveness to your needs"

Caleb Cluff
Caleb joined Tukios in September 2021 as a Sales Development Representative and is a student at Weber State University studying Supply Chain Management.
Caleb's favorite quote is "Fortune favors the brave" by Pacific Rim. His favorite food is Fettuccine Alfredo and in his spare time, he loves going to the Utah Jazz basketball games.
Caleb's previous supervisor said:
"Caleb was a top performer many months on the Website Sales Development team. He was always consistent from the very beginning and has a lot of natural abilities."

Makenna Wimsatt
Makenna has spent the last 18 months as a member of our Client Success team. In this role, she spent her time helping funeral directors and answering questions.
Makenna's favorite food is Mexican food and she loves to read and ski in her free time. Her favorite quote is "No one ever made a difference by being like everyone else" by P.T. Barnum.
Makenna's last supervisor said:
"Makenna has been one of the best employees we've had at Tukios and a gamechanger for the support staff. Her willingness to jump in and help with whatever needs the funeral home is one of her most admirable traits. Her dedication to learning and knowing as much as she can about our industry and the people we serve is an inspiration to the way we want business to be handled here. Much like other employees here, she will hunt down answers to make sure that any problem we have is solved. We are very sad to lose Makenna from our team but so happy she will continue to serve our funeral home friends."

Brock Wadman
Brock joined Tukios in June 2022 and has worked as a Sales Development Representative and is studying Engineering at Weber State University.
Brock's favorite quote is "We must all face the choice between what is right and what is easy" by Albus Dumbledore. His favorite food is Indian food and he enjoys playing hockey.
Brock's previous supervisor said:
"Brock was a quick learner and one of the fastest to ever get through the training process and graduate to Sales Development Representative. He's always fun and happy."
Our Account Managers are excited to continue building relationships and find ways to serve each one of you! Check out a fun video of the Account Managers on our Facebook or Instagram!